| | |
| --- | --- |
| The Splosh Psychiatrist: Faye X Taylor Destroyed | |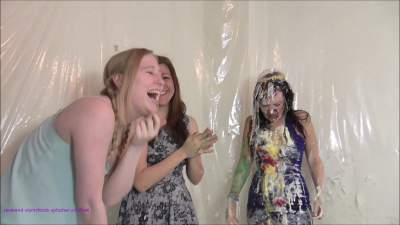 Starring these models:
| | |
| --- | --- |
| File count: | 1 |
| Total size: | 897.1 MB |
| Total runtime: | 18 mins, 38 secs |
| Date added: | 10/10/17 |
| Views: | 1061 |

$12.99




Flag it
Faye X Taylor destroyed with *pies * gateaux *gunge * Custard *cream *ice cream sauce *trifle and more

Splosh Psychiatrist Satine Spark is concluding her final session with patient Rascal Pieworthy, who had an addiction to throwing pies and cakes and gunge. Satine decides to give her one final test. She calls for her secretary, the lovely Faye X Taylor and explains that she will help with the test. Faye is to read trigger words designed to tempt Rascal..but thanks to the cure, Rascal shouldn't be tempted.

Faye complains she is in a new dress, and has had her hair done, but Satine reassures Faye that Rascal is completely cured. Faye reads the first card: "Oh please don't throw that delicious, thick, creamy pie all over my face..you'll ruin my hair, my make-up and my clothes..and they were so expensive. "

Rascal tries to resist but can't and pie Faye

"Look at what she's done..look at my face..this is so humiliating..I'm a professional!" wails Faye

"Lets try this again" suggests Satine handing Rascal another pie

Faye reads the next card "Please don't spoil this dress..I paid so much money for it from the designer shop..please don't cover it with pie, I'd be so humiliated"

Rascal pies Faye again

"Oh my dress" yells Faye "Can I go?"

Satine insists that Faye stay to help Miss Pieworthy

She decides to see if Rascal is cured with regard to gunge

Faye begs: "Do you have any idea how much it costs to get my hair blowdried like this..and I spent hours on my make-up..& it's really expensive make-up. This dress was £100..and it will destroy it if you gunge it. You wouldn't would you?"

but Rascal would and does (though sadly some of the gunge misses its target)

"My watch" wails Faye "this watch was a present from my parents"

Faye decides to try a jug of custard...but Rascal tips it down the front of Faye's dress.

Then Satine suggests Faye have a sit down as she has been through a lot...but Rascal sneakily places a pie on Faye's chair..so she sits in the pie..then when she leaps up in shock, yelling "Why have you done that?", Rascal pushes her head into a black forest gateaux on the table...poor poor Faye is being totally destroyed "I don't think the treatment's worked" laments Faye but her ordeal isn't over. Rascal thinks she would be okay with the double cream so Satine hands it to her..and Rascal immediately pours it over Faye. It is noticeable that despite herself, Dr Satine is now finding it funny that Faye is being trashed, and she and Rascal laugh at how stupid she looks. She hands Rascal the chocolate sauce..and rascal just squirts it all over Faye. Then Satine gives Rascal a trifle and she throws at Faye and it lands plum on her dress.

"I don't think that's cleaned up " laughs Satine

"I think it's destroyed" agrees Rascal as they roar with laughter at Faye's humiliation

"Shame about the hair eh" says Satine

"Look at that hair" agrees Rascal

"It just means I need some more sessions" concludes Rascal
More scenes
Tell others about this scene:
* Promo refers only to
Fully Clothed WAM
's download scenes. The lowest-priced item(s) in your cart from this producer will be made free once you have the required number of items in your cart.